I am so very honored to receive these two awards from Running Dear. Wado V gi lv.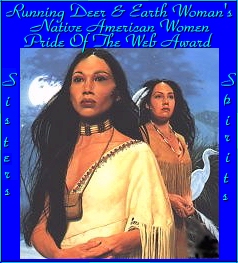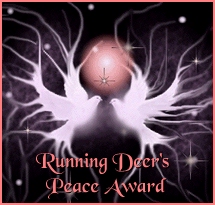 I am truly honored in receiving both of these awards. More than anything, I long for us to have peace amongst ourselves and work together for the unity of all peoples.
Please visit Running Dear's page at:
Please sign a very important petition this Sister has available on her page!
AMERICAN INDIAN WOMEN - THE ABOLISHMENT OF THE BUREAU OF INDIAN AFFAIRS

I also ask that you sign a another very important petition, that of the Fort Larmie Treaty - with great respect to the writers of this petition. Together we are one strong voice. As one arrow can be broken easily, a handful is strong and will not be broken. Working together we can make change.
PETITON TO ENFORCE FORT LARMIE TREATY

I also had the pleasure of meeting another special person - and she has a wonderful page with many Native American Indian links, please visit her page and add your links!
And, last by no means, least, more of the beautiful writing of my Friend and Brother, Strong Bear Red Heart. For you my Brother, I beat the drum!
The Writings of Strong Bear Red Heart

The Lord's Prayer in Cherokee~Let the Healing Begin!

VISIT EVENING RAIN AND RAVEN WOLF'S WEBSITE! WE are just beginning to build..but we'd love to have you see our new place - "together."