JOIN THE CHEROKEE ANCESTORS AND DESCENDENTS WEB RING.

WE are not the forgotten Tsalagi. We are here and we are strong!
The Cherokee People SiteRing

This site owned by
Evening Rain
SiteRing by Bravenet.com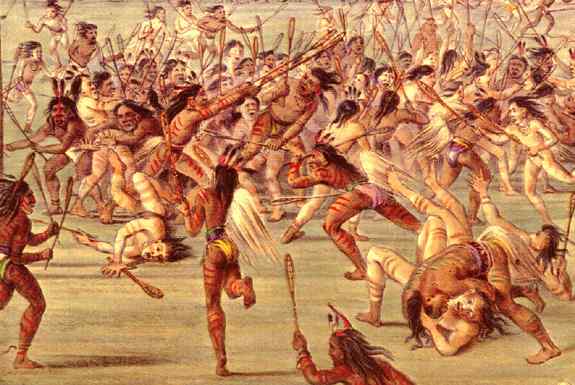 Cherokee - The Ball Play
By Catlin 1830
To join The Cherokee People Site Ring, please click on the Site Ring above. You must also copy the picture that will be included in your site ring. Copy the picture on the left hand side and add this to your web ring once the html code needed is sent to you.
To save the graphic of the mountains and lake, right click on your mouse and "save picture" as to your harddrive or document file. Then you will need to upload this graphic to your web site to add it to the ring.
If you have any questions, please feel free to contact me at:
For those of us whose families were unenrolled, who were never included in the final rolls of the Tsalagi - who perhaps hid in the mountains to save the lives of our families and their lands and for those brave Cherokee who stood up with bravery and pride as did Chief Dragging Canoe.
It has often been said, you either are or are not Cherokee. A card does not make you Cherokee. Your heart and the spirit of your Ancestors and the strong blood that runs through your veins and heart is what makes you Tsalagi.
We are proud of who we are. We ask for nothing more than what is ours - our birthright and heritage - we are Tsalagi!
JOIN MY TWO BEADS WORTH - RECEIVE UPDATES OF NEWS' STORIES OF INTEREST TO THE NATIVE AMERICAN INDIANS AND INDIGENOUS PEOPLES OF THE WORLD.