O'siyo and welcome again...as my pages grow, I hope you will continue to visit and I hope that I can share with you good things and good thoughts.

There are many important things in this life of ours. Good things. My hope as I write, share my words and share those of others who have a good heart and good thoughts, you will leave these pages with something happy to carry within your heart.

But there is the reality of life. And where there is good, there is bad, where there is happy, there is sad.

Some of the words here will be filled with that sadness, some with anger and hurt - but with the feelings of the heart. For the Indian, life is having heart.

ENTER


ENTER CHAT ROOM


It is not my wish to take anything from anyone. Any graphic here which you may claim as your own, please write to me and let me know and I will most happily give you credit and a link back to your home page. It is difficult to determine from the many free web clip sites, and other sources available what may not belong in those pages. I have used Paint Shop Pro here to make some of my graphics, and artwork from private web clip art that I have purchased. There are links listed as well for free web clip art and Artists' who have granted me their permission to share their beautiful artwork with you. Please see the Links Section for credits for my Personal Home pages.

My intent, as with many who spend hours creating a personal home page, is to share something good with you. It is not my intent to take what is not mine.
These pages have been created by Evening Rain.
© Evening Rain 2001-2002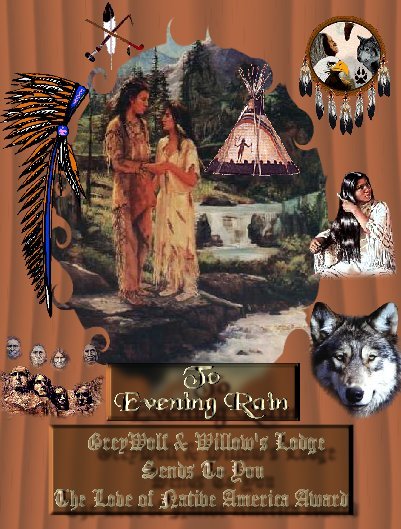 I am honored to receive this beautiful award from Grey Wolf And Willow - Wado Oginalii - with love, from Svhyeyi Aga.
What is human click? If you would like to contact me, simply click on the icon above and if I am online, you may be able to reach me. Thank you again for visiting my web pages.
The America Indian Web SiteRing

This site owned by
Evening Rain
SiteRing by Bravenet.com